Artificial insemination
In order to improve the cattle breed in Ajara region Agro Service Center offers costumers the Artificial insemination of cattle. For this purpose organization brought semen of purebred bull from abroad, such as Swiss and Jersey dairy and Aberdeen-angus beef breeds. AI supports improvement of milk productivity and protection of cattle from various diseases, as far as cows have high immune system as a result of improved breed, which makes them disease resistant.
Nowadays, for artificial insemination of cattle only improved breeds of bulls are being used in the developed countries, which make increase of cattle productivity in short time period. At the present, Agro Service Center specialists use semen of Swiss and Jersey dairy and Aberdeen-angus beef breeds for AI.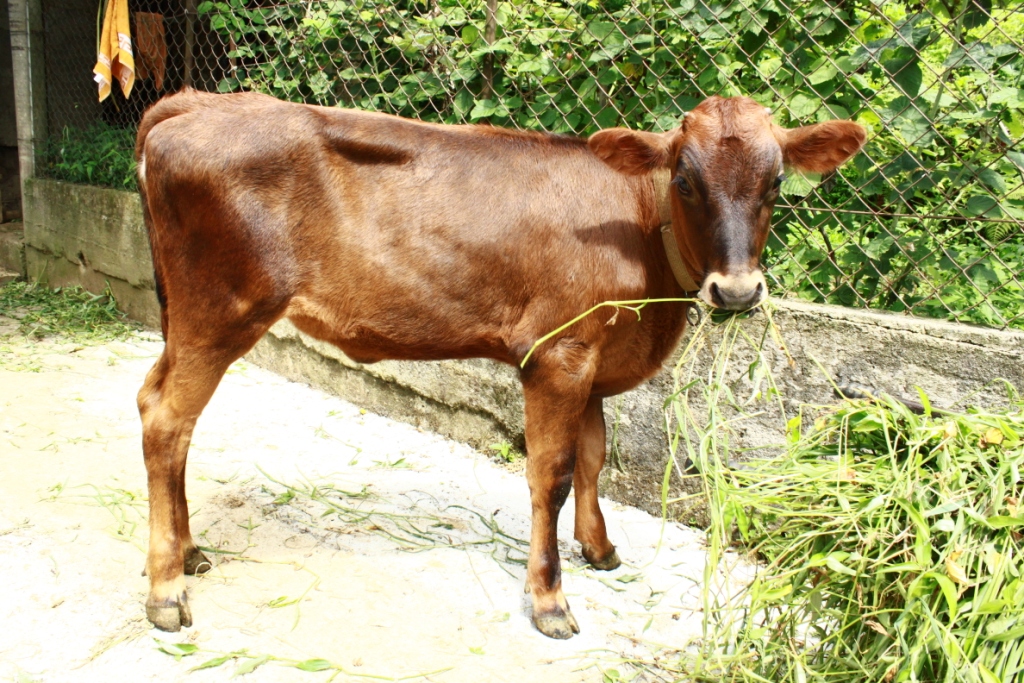 Jersey breed is originated form island Jersey (Britain). Among dairy cattle the Jersey cow is quite small, ranging from only 400–500 kilograms (880–1,100 lb). As for the newborn calves it weight up to 20-25 Kilograms. In general Jersey cows produce 4000-5000 Kilogram milk a year, which is characterized by the high consistency of fat and albumen. Jersey cows are early maturing and the age of first calving is 21-23 month for them.
Swiss breed is originated from Switzerland and is inhabitant of more than 100 counties in the world. Cows weight up to 500-600 kilograms, bulls - 800-1000 and newborn calves – 30-35 kilograms. Swiss cows produce 4000-5000 kilograms of milk with 3, 8 fat consistencies in Switzerland.
Aberdeen-angus breed is originated from Scotland and is early maturing breed. It reaches the maturing age after 14-16 month and weights up to 450-550 kilograms for cows, 750-850 kilograms for bull and 25-30 kilograms for newborn calves. Aberdeen-angus breed is beef breed. According to the beef quality this breed is well known among others.
Agro Service Center has artificial insemination stations in each municipalities of Ajara. From 2012, after the beginning of AI service approximately 300 calves were born in Ajara region. Consumers for AI service can reach our AI stations at the addresses stated bellow.
The price of cattle Artificial Insemination is 20 GEL in( Batumi, Qobuleti and Khelvachauri municipality) and 10 GEL in (Keda,Shuakhevi and Khulo municipality)
Batumi
577 43 03 20 - Zebur Abuselidze
Qobuleti municipality
599 29 35 82 - Ucha Umetadze
Keda municipality
599 29 35 91 - Vakhtang Goguadze 595 08 42 93 - Tamaz Goguadze
Shuakhevi municipality
595 08 42 92 - Aslan Makharadze 595 08 44 75 - Tamaz Abuseridze
Khulo municipality
Khulo
595 08 42 90 - Rezo Bolkvadze 595 08 42 91 - Gigla Abuladze
Didachara-Ghorjomi
599 29 35 97 - Jumberi Mgeladze 599 89 89 71 - Malkhaz Solomonidze
Skhalta-Khikhadziri
599 54 66 91 - Tsezar Iakobadze 599 29 36 27 - Zurab Solomonidze